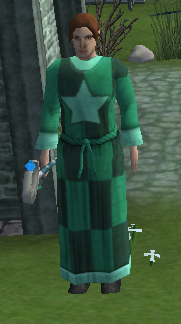 "Culling In The Name Of" is a level 26 quest.
Quest Path: Tales of Eldevin -> Curios Forest
Learn from: Guardian Crixes just outside the north-west gate of Mythos. Best done in conjunction with [25] Mythos Resurrection.
Stages:
Kill 14 of the nearby Grey Wolves
Return to Guardian Crixes
Complete
Rewards: Each stage rewards 22,016 XP.
Trivia: the name of the quest is probably a reference to the the song Killing In The Name by Rage Against the Machine which contains the refrain "Killing in the name of ...".