Prospecting is a gathering profession that involves mining ore from deposits and using the gathered materials to create metal bars and ingots.
To be able to mine you need to have a pick axe in your inventory (you are given a Tarnished Copper Pick Axe in an early quest and these others work too: Miner's Best Friend, Rusted Iron Pickaxe and Iron Pick Axe but they don't increase speed and work just as the beginner axe), and double-click on ore deposits. The starter-level minerals Copper Ore and Coal can easily be found in the Othalo Mine and Nidaros Mines, as well as other places.
Creating metal bars at a forge and ingots at an ore mill are also a part of the Prospecting profession. Bars can then be used in Weaponsmithing and Armorsmithing, and the ingots in Jewelry.
Apprentice Prospecting Trainer
Edit
Apprentice Prospecting Trainers give out daily skill quests related to the Prospecting profession. They can be found in the following locations:
Gathered items
Edit
Created items
Edit
The following items can be created at a forge (bars) or an ore mill (ingots).
| Name | Level | Materials |
| --- | --- | --- |
| Copper Bar | 1 | 2 Copper Ore, 1 Coal, 1 Weak Flux |
| Bronze Bar | 16 | 2 Bronze Ore, 1 Coal, 1 Potent Flux |
| Iron Bar | 32 | 2 Iron Ore, 1 Coal, 1 Strong Flux |
| Silver Bar | 48 | 2 Silver Ore, 1 Coal, 1 Stable Flux |
| Copper Ingot | 1 | 2 Copper Ore, 1 Coal, 1 Weak Flux |
| Bronze Ingot | 16 | 2 Bronze Ore, 1 Coal, 1 Potent Flux |
| Iron Ingot | 32 | 2 Iron Ore, 1 Coal, 1 Strong Flux |
| Silver Ingot | 48 | 2 Silver Ore, 1 Coal, 1 Stable Flux |
Locations
Edit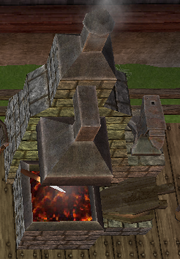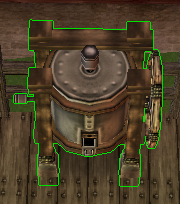 Creating metal bars can be done at any forge, creating metal ingots at any ore mill. These can be found in the following places:
---