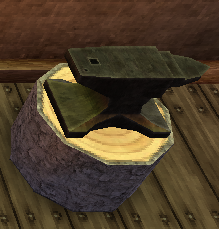 Weaponsmithing is a Profession allowing players to craft weapons and shields at Weaponsmith Anvils (which are distinct from and smaller than Armorsmith Anvils.)
Required materials
Edit
Weaponsmithing usually requires metal bars (not ingots) via Prospecting, but may also (or instead) require processed timber via Forestry depending on the item produced.
As with all crafting professions, each recipe also requires at least one Purchased item from a profession vendor, and special items require additional materials such as "rare" gathers, Elemental Flakes, or Dungeon Remnants.
Locations
Edit
Weaponsmith Anvils are found in the following places:
Apprentice Trainers
Edit
Apprentice Weaponsmithing Trainers give out daily skill quests for the Weaponsmithing profession. The skill quest is shared among all Trainers.
Produced items
Edit
---